http://www.facebook.com/kraftmaidcabinetry?app_data=32691640&sk=app_189918784413640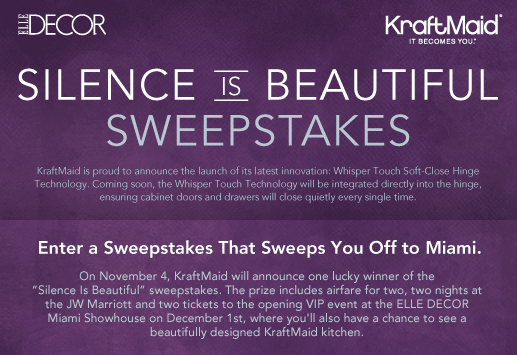 Silence is Beautiful Sweepstakes

Elle Décor & KraftMaid


OFFICIAL RULES


NO PURCHASE OR PAYMENT OF ANY KIND IS NECESSARY TO ENTER OR WIN. OPEN ONLY TO LEGAL RESIDENTS OF THE 50 UNITED STATES AND THE DISTRICT OF COLUMBIA. VOID IN PUERTO RICO, THE U.S. VIRGIN ISLANDS, GUAM AND WHERE PROHIBITED BY LAW. THIS PROMOTION IS NO WAY SPONSORED, ENDORSED, OR ADMINISTERED BY, OR ASSOCIATED WITH, FACEBOOK.


The Silence is Beautiful Sweepstakes (this "
Promotion
") starts on September 19, 2011 at 12:00:01 PM Eastern Time ("
ET
") and ends on October 28, 2011 at 6:59:59 PM ET (the "
Promotion Period
"). Administrator's computer is the official time-keeping device for this Promotion. Promotion is subject to all applicable federal, state and local laws and is void wherever prohibited by law.


1. HOW TO ENTER:
During the Promotion Period, visit the tab entitled "Silence is Beautiful" at http://www.facebook.com/elledecorshowhouse or http://www.facebook.com/KraftMaidcabinetry (collectively the "
Web Site
") and complete and submit all fields of the online entry form. Limit one (1) entry per person per calendar day. Proof of entering information at the Web Site will not be deemed proof of delivery or receipt by Sponsor. By entering, entrants agree to be bound by these Official Rules and the decisions of the Sponsor, which are binding and final on matters relating to this Promotion. All incomplete or non-conforming entries will be disqualified. Sponsor reserves the right to void all entries made through any script, macro, robotic, automatic, mechanical, programmed or similar duplication method. In the event of a dispute over the identity of an entrant, the entry will be deemed to have been submitted by the authorized account holder of the email address connected to the entrant's Facebook account. Potential winners may be required to provide proof to Sponsor/Administrator that they are the authorized account holder. Upon submission, all entries become the property of Sponsor and will not be returned. You understand that you are providing your information to Elle Décor and KraftMaid and not to Facebook. The information you provide will only be used for the purposes of selecting a winner and upon opt-in, receiving Sponsor's marketing communications including notification of similar promotions in the future. Information collected from entrants is subject to the Privacy Policy of the Sponsor and Administrator, available at http://www.KraftMaid.com/privacy-terms.html and http://services.hearstmags.com/media/cm/hfmus/your_privacy_rights.html. For a copy of these Official Rules, print them from the Web Site.


2. ELIGIBILITY:
This Promotion is open only to Persons who are legal residents of the 50 United States or Washington, D.C., and at least 18 years of age and of the age of majority in the state of residence at the time of entry. Employees or agents of Hearst Magazines, Inc., Masco Cabinetry LLC., and their respective parent companies, affiliates, or subsidiaries, or the service agencies or independent contractors of any of the above organizations (collectively, "
Promotion Entities
") are not eligible to enter this Sweepstakes or win a prize. Immediate family members or persons living in the same household of such employees are not eligible to enter this Promotion or win a prize. "
Immediate family members
" shall mean parents, spouses, children, siblings, or grandparents and each of their respective spouses, regardless of where they reside. In order to enter this Promotion or receive the prize, you must fully comply with the Official Rules, and by entering you agree to be bound by these Official Rules and the decisions of the Sponsor, whose decisions shall be binding and final in all respects, and you certify that you are eligible to enter.


3. PRIZES:
Sponsor will award one (1) Grand Prize.
Grand Prize
is a trip for two (2) to Miami to attend the Elle Décor Showhouse Experience opening night VIP event (the "
Event
") (Approximate Retail Value: $1,500). Grand Prize Details: round-trip airfare for two (2) people from a major airport near Grand Prize winner's residence (airport determined by Sponsor in its sole discretion); two (2) nights single room (based on double occupancy), standard hotel accommodations (plus applicable taxes on accommodations, not including any miscellaneous [size=9]

charges or expenses); ground transportation from airport to hotel and return trip from hotel to airport, and access to the Miami Showhouse. Airports, hotel accommodations, itinerary, trip details shall be determined by Sponsor in its sole discretion. Winner must be available to travel on dates selected by Sponsor in December 2011. Grand Prize winner must book trip through, and cooperate with the reasonable requirements of, Sponsor's designated travel agency. Travel / accommodations subject to availability, holiday blackouts, restrictions and changes. Arrangements must be made at least ten (10) days prior to departure. If in the judgment of Sponsor air travel is not required due to winner's proximity to prize location, ground transportation will be substituted for roundtrip air travel at Sponsor's sole discretion and no additional compensation will be provided. Grand Prize winner is responsible for providing any and all required identification and travel documents and for complying with all applicable security requirements. Terms and conditions of all tickets and of any venue apply. All ground transportation, other than transportation designated, meals, gratuities, fees and other expenses not specified herein are the sole responsibility of the Grand Prize winner. All taxes or expenses, including, without limitation, sales tax, state and local income tax, and any other costs incurred in claiming or using any prize, are the sole responsibility of the prize winners. Actual value may vary based on exchange rate, airfare fluctuations, time of departure and distance between departure and destination. Any difference between the actual value of any prize and the approximate retail value set forth in these Official Rules may not be claimed and will not be awarded. Prize will be forfeited and an alternate winner selected if winner is unable to travel or attend the Event, on dates designated by Sponsor. Arrival and departure must occur on the dates specified or prize will be forfeited in its entirety with no compensation or substitution of prize. Specific airline seat locations will be determined by Sponsor in its sole discretion. Sponsor is not responsible if the Event is delayed, postponed, cancelled or rescheduled for any reason. If any Event portion of the prize is delayed, postponed, cancelled or rescheduled for any reason, Sponsor is not responsible for awarding that portion of the Grand Prize, but the remainder of the prize package will be awarded. Travel arrangements may not be modified once confirmed. Sponsor will not replace any lost, mutilated, or stolen tickets, travel vouchers or certificates. No transfer, refund, substitution or replacement of prize permitted, except that the Sponsor reserves the right, in its sole discretion, to substitute a prize of equal or greater value (or cash equivalent).

[size=9]
4. DRAWING; ODDS:
Sponsor will randomly select one (1) potential winner from among all eligible entries received during the Promotion Period. Odds of winning depend on the number of eligible entries received. Potential winners will be notified by mail, email or phone. By entering, entrants give their express permission to be contacted by Sponsor by email. Potential winners will be required to sign and return to Administrator, within ten (10) days of the date of receipt, an Affidavit of Eligibility and Publicity/Liability Release, a W-9 form (Request for Taxpayer Identification Number and Certification), and potentially a prize selection form (an "
Affidavit
") in order to claim his/her prize. If: (a) any prize notification is returned as undeliverable, (b) potential winner does not respond to notification by email or phone within five (5) days of the date of notification, (c) potential winner does not comply with these Official Rules, or (d) potential winner's Affidavit is returned as undeliverable or is not received when required, prize will be forfeited and an alternate winner will be selected. In the event that a potential winner is disqualified for any reason, Sponsor will award the applicable prize to an alternate winner by random drawing from among all remaining eligible entries.


5. PUBLICITY RELEASE:
Except where prohibited or restricted by law, winner's acceptance of prize constitutes the winner's consent for the Sponsor or its agents to use and/or publish winner's full name, country, city and state/province of residence, hometown, photograph or other likeness, entry, pictures, portraits, voice, testimonials, opinions, biographical information (in whole or in part), and/or statements made by winner, worldwide and in perpetuity for promotional or other purposes, in any media, without further compensation, notice, review, or approval.


6. NO TAMPERING; RIGHT TO CANCEL, MODIFY:
By entering, entrants acknowledge and agree that Sponsor, Administrator, Blabbermouth Social Media, Facebook, and each of their respective parents, subsidiaries, and affiliates, and all of their respective officers, directors, employees, representatives, agents, successors, and assigns (the "
Promotional Entities
"), are not responsible, and shall have no liability, for: (a) entries that contain incomplete or inaccurate information, whether caused by entrants or by any of the equipment or programming associated with or utilized in this Promotion, or do not otherwise comply with or violate the Official Rules; (b)

entries, prize claims or notifications that are lost, late, incomplete, illegible, unintelligible, damaged, garbled, misdirected, or otherwise not received by Sponsor or its agents for any reason; (c) any typographical or other error in the printing or advertising of this Promotion, the administration or execution of this Promotion, or in the announcement of prize winners; (d) any problems or technical malfunctions, errors, omissions, interruptions, deletions, defects, delays in operation or transmission, communication failures or human error that may occur in the transmission, receipt or processing of entries, or for destruction of or unauthorized access to, or alteration of, entries; (e) failed or unavailable hardware, network, software or telephone transmissions, damage to entrants' or any person's computer and/or its contents, or causes beyond Sponsor's reasonable control that jeopardize the administration, security, fairness, integrity or proper conduct of this Promotion; or (f) if a prize, or a prize component, cannot be awarded due to shipping delays or interruptions due to Acts of God, natural disasters, terrorism, weather or any other similar event beyond the Sponsor's reasonable control. The Sponsor reserves the right, in its sole discretion, to disqualify any individual it finds to be (a) tampering with the entry process or the operation of this Promotion, or with any Websites promoting this Promotion; or (b) acting in violation of the Official Rules. Sponsor reserves the right to void all entries made through any robotic, automatic, mechanical, programmed or similar entry duplication method and to disqualify any individual using such a method of entry. If the Sponsor determines, in its sole discretion, that this Promotion cannot be executed as planned, including but not limited to infection by computer virus, bugs, tampering, unauthorized intervention, fraud, technical failures, or any other causes beyond the control of Sponsor that corrupt or affect the security, administration, fairness, integrity or proper conduct of this Promotion, or if this Promotion is compromised or becomes technically corrupted in any way, electronically or otherwise, Sponsor reserves the right to terminate this Promotion, to void the entries at issue, and/or modify this Promotion and/or conduct a random drawing to award the prize(s) from all eligible entries received as of the termination date. If this Promotion is terminated or modified due to technical difficulties or unforeseen events prior to the expiration date of the Promotion Period, notice will be posted at http://www.facebook.com/elledecorshowhouse and http://www.facebook.com/KraftMaidcabinetry. No more than the stated number of prizes will be awarded. In the event that production, technical, seeding, programming or any other reasons cause more than the stated number of prizes as set forth in these Official Rules to be available and/or claimed, Sponsor reserves the right to award only the stated number of prizes by a random drawing among all legitimate, un-awarded, eligible prize claims.
[size=9]
7. WARNING:
ANY ATTEMPT BY AN ENTRANT OR ANY OTHER PERSON TO DELIBERATELY DAMAGE THE WEB SITE OR UNDERMINE THE LEGITIMATE OPERATION OF THIS CONTEST MAY BE A VIOLATION OF CRIMINAL AND CIVIL LAWS; AND SHOULD SUCH AN ATTEMPT BE MADE, SPONSOR RESERVES THE RIGHT TO SEEK REMEDIES AND DAMAGES (INCLUDING ATTORNEYS' FEES) FROM ANY SUCH ENTRANT OR OTHER PERSON TO THE FULLEST EXTENT PERMITTED BY LAW, INCLUDING SEEKING CRIMINAL PROSECUTION.


8. RELEASE OF LIABILITY; DISCLAIMER OF WARRANTY; FORUM SELECTION CLAUSE:
By participating in this Promotion, entrants and winners agree to indemnify, release and hold harmless the Promotion Entities from any and all liability, for loss, harm, damage, injury, cost or expense whatsoever including without limitation, property damage, personal injury (including emotional distress), and/or death caused, directly or indirectly, from the awarding, acceptance, possession, use, misuse, loss or misdirection of any prize or resulting from participating in this Promotion or any promotion or prize-related activities, and for any claims or causes of action based on publicity rights, defamation or invasion of privacy and merchandise delivery. The Promotion Entities assume no responsibility for any injury or damage to entrants or to any other person's computer, regardless of how caused, relating to or resulting from entering or downloading materials or software in connection with this Promotion. Entrants and winners acknowledge that the Promotion Entities have neither made nor are in any manner responsible or liable for any warranty, representations or guarantees, express or implied, in fact or in law, relative to any prize, including, but not limited to, express warranties provided by the manufacturer of the goods or their affiliates. THIS PROMOTION IS GOVERNED BY THE LAWS OF THE UNITED STATES AND THE STATE OF NEW YORK, WITHOUT RESPECT TO CONFLICT OF LAW DOCTRINES. As a condition of participating in these Promotion, each participant agrees that any and all disputes that cannot be resolved between the parties and causes of action arising out of or connected with this Promotion shall be resolved individually, without resort to any form of class action, exclusively before a court located in New York County, New York having jurisdiction. Further, in any such dispute, under no circumstances will participant be permitted to obtain awards for and hereby waives all rights to
© 2011 Blabber Mouth LLC. All rights reserved.


claim punitive, incidental, indirect, or consequential damages, including reasonable attorneys fees, other than participant's actual out-of-pocket expenses (i.e., costs associated with entering this Promotion), and participant further waives all rights to have damages multiplied or increased.


9. LIST OF WINNERS:
A winners list will be posted on the Web Site on or after November 4, 2011.


10. SPONSOR and ADMINISTRATOR:
The Sponsor of this Promotion is Masco Cabinetry LLC., 4600 Arrowhead Drive, Ann Arbor, MI 48105. The Administrator of this Promotion is Hearst Magazines, Inc., 300 West 57
th
Street, New York, NY 10019.

[/size][/size][/size]