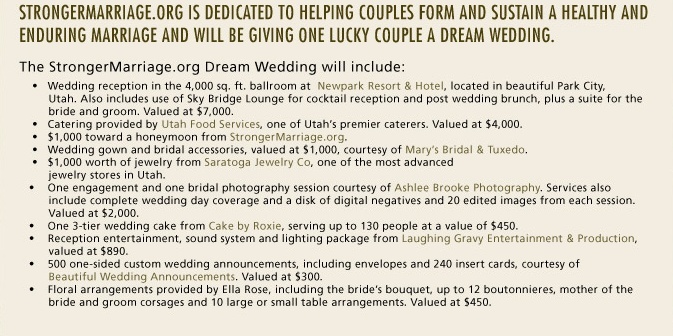 Contest Instructions
From September 14 – October 2, 2011, simply fill out the firm, upload a photo of you and your partner and tell us why you deserve a Dream Wedding. We'll select five finalist couples who will appear on FOX13 on October 5, 2011. Once the finalists are announced, StrongerMarriage.org and FOX13 fans can vote on what couple they think should win the StrongerMarriage.org Dream Wedding. The couple with the highest number of votes on October 20, 2011 will be selected as our StrongerMarriage.org Dream Wedding Couple! Once the winning couple is selected, FOX13 viewers and StrongerMarriage.org fans will help them plan the Dream Wedding by voting on various elements.
Prize Eligibility
Only persons residing in Utah who are at least 21 years of age can enter.
Contest Starts
September 21, 2011 @ 07:00 am (MDT)
Contest Ends
October 02, 2011 @ 11:59 pm (MDT)
Need more Details?
Read the Official Rules
About the Company
Providing tips and resources that can help improve the health of any relationship.