Enter SweepstakesInvite Friends
Prize Details
Christmas in September!Suzanne Woods Fisher is thrilled to announce the release of A Lancaster County Christmas!
With her trademark plot twists and attention to detail, Suzanne Woods Fisher offers readers a beautiful Christmas story of love, forgiveness, and what truly matters in life.
A must read!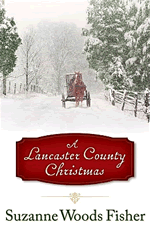 Follow the blog tour and see what the reviewers are saying!.A Lancaster County Christmas is in stores now and to celebrate Suzanne is hosting the "Christmas in September" iPad Giveaway & FB Party.During the giveaway one Grand Prize winner will receive a 16 GB iPad 2 with Wi-Fi!
The Prize Pack (valued at $600) includes:
* A brand new 16 KB iPad 2 with Wi-Fi
* A $25 gift certificate to iTunes
* A copy of
A Lancaster County Christmas
Then on 9/27 join Suzanne for Christmas in September Party at 5:00 PM PST (6:00 MST, 7:00 CST, 8:00 EST)!
During the party Suzanne will announce the winner of the "Christmas in September" iPad Giveaway and reveal something
BIG
– you won't want to miss it. There will also be a book chat, trivia contest and Suzanne will be giving away a few early Christmas presents! RSVP early and tell your friends!
_____________________________________
About A Lancaster County Christmas:
The story of two couples, unlikely friends, who meet over unusual circumstances and end up spending a weekend together. It's a love story…but here's the catch: both couples are married.
---
Meet Suzanne:
Suzanne has a great admiration for the Plain people and believes they provide wonderful examples to the world. In both her fiction and non-fiction books, she has an underlying theme: You don't have to "go Amish" to incorporate many of their principles—simplicity, living with less, appreciating nature, forgiving others more readily— into your life.
When Suzanne isn't writing or bragging to her friends about her first new grandbaby (!), she is raising puppies for Guide Dogs for the Blind. To Suzanne's way of thinking, you just can't take life too seriously when a puppy is tearing through your house with someone's underwear in its mouth. Suzanne can be found on-line at: <A href="http://www.suzannewoodsfisher.com/" target=_top>www.suzannewoodsfisher.com.
Prize Eligibility
Only persons residing in Australia, Canada and United States who are at least 18 years of age can enter.
Sweepstakes Starts
September 07, 2011 @ 12:00 am (PDT)
Sweepstakes Ends
September 26, 2011 @ 11:59 pm (PDT)
Need more Details?
Read the Official Rules