http://apps.facebook.com/promotionshq/contests/142335
Prize Details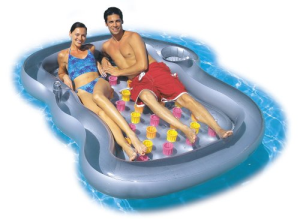 Die komfortable XXL Solar Luftmatratze ist durch die vorhandene Refelektionsschicht optimal zum Bräunen geeignet. Weiterhin verfügt die Matraze über ein Getränkehalter und Kühlfach welche zum gemütlich Verweilen einlädt.


Vorhandene Refelektionsschicht optimal zum Bräunen

Für 2 Personen geeignet

Mit Kühlfach und Getränkehalter

Inkl. Sicherheitsventil

Maße (LxBxH): 218 × 183 × 30 cm

Material: PVC Vinyl

Nur für Kinder ab 14 Jahren geeignet

Neu und original Verpackt

Lieferumfang:

1 x XXL Solar Luftmatratze von Bestway

Inkl. Reparaturflicken

Contest Instructions
Lade Dein Lieblingsfoto zu Kroatien hoch und lade Deine Freunde für Dein Bild zu stimmen. Das Gewinnerbild erhält die tolle Luftmatratze per Post zugeschickt.
Contest Starts
August 01, 2011 @ 12:05 pm (CEST)
Contest Ends
August 07, 2011 @ 11:59 pm (CEST)
Need more Details?
Read the Official Rules
About the Company
Adria24 ist ein Reiseportal für Kroatien. Wir unterstützen diese Aktion und sponsern gerne den Preis.